While listening to a webinar the other night with some multi-million dollar earners in Network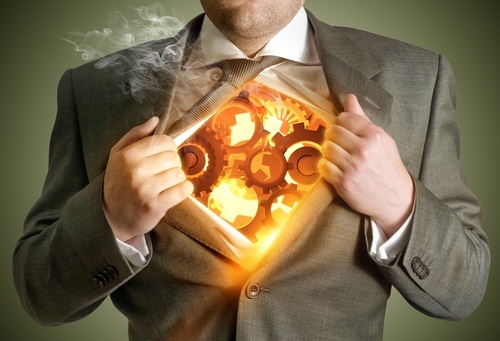 Marketing there was a conversation about being an Entrepreneur. The discussion was one that really made me stop and ponder the whole meaning of being a Real Entrepreneur or just being a disgruntled employee, there is a big difference. I was setting there listening to Network Super Star Mark Hooverson discuss how he knew, when he was even a little kid, that he had the Entrepreneur spirit and how even in his youth he always knew he could do more, be more and have more if he just did his own gig instead of working for someone else. I could relate because I had been making money on my own since I was about 12 years old when dear ole Dad loaded me up and took me to the store to buy a lawn mower. He wheeled it outside and said "Here, the first $35 you make pays me back, after that Your in business!" and I was off to start my enterprise.
Entrepreneurial spirit is a mindset. It's an attitude and approach to thinking that actively seeks out change, rather than waiting to adapt to change. It's a mindset that embraces critical questioning, innovation, service and continuous improvement. This spirit comes from the inside and burns like a passion to make things happen that will increase our value and worth. Entrepreneurship can be defined as "…the capacity and willingness to develop, organize, and manage a business venture along with any of its risks in order to make a profit." This burning desire to do your own thing is not for everyone but can be had by anyone that is willing to "do the deal" or work harder to be better everyday. This comes from "Commitment, Education and Action". Anyone can learn to run their own business but not everyone will make the effort. It takes a special kind of willingness to push yourself, and get it done on your own, that some people just don't have. Too often people are only motivated when the are pushed by outside forces instead of pushing themselves and this usually comes in the form of a boss. As long as someone is telling them when to work, how much to work and what they have to do, then they can perform a service, but to push their own efforts and do things without the outside influence then they just don't get it done, they would rather watch another season of TV then actually do something that might increase their standard of living.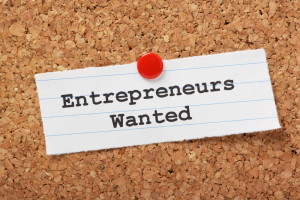 The Real Entrepreneur seeks out the knowledge to develop and organize a business plan that they can execute to build something that is greater than what they had yesterday. They are willing to take risk and step out of the comfort zone to do the things that most just won't do. Just because you hate your job or you hate your boss and wish you could work for yourself doesn't always transfer into a Successful home based business. We hear it all the time, "man I just want to quit my job and work from home" and that is a novel idea alright but the key word here is "work". You Can work from home and you Can make way more money working from home then you do at your soul sucking J.O.B. (Just Over Broke). But the challenge becomes, what are you willing to do to make that happen? Are you truly interested in learning new life skills and organizing a game plan that will kick start your new business, OR do you just wish you could sit around the house all day and play around on Facebook?
Anyone can be an Entrepreneur! But let's go back to the definition of being a True Entrepreneur "…the capacity and willingness to develop, organize, and manage a business venture along with any of its risks in order to make a profit." This is why so many people fail in Network Marketing, they get involved for all the right reasons but life is busy, people work long hours at their job, kids got activities and more often then not these people don't take the time to learn the skills needed and actually do a business. You Must Commit, Educate and Act, it really is that simple. It starts with You and learning how to change your mindset from an employee to Entrepreneur. Your Success really comes down to Your "Why", the real reason you started with Network Marketing to begin with. If it was just out of curiosity and you aren't really committed to your "Why" then your chance of creating Success drastically goes down. But if your "Why" is bigger than your excuses then you will have the necessary drive to learn the skills and do the deal of moving your home based business forward.
Most people have a reason that they got started with Network Marketing. It usually is more about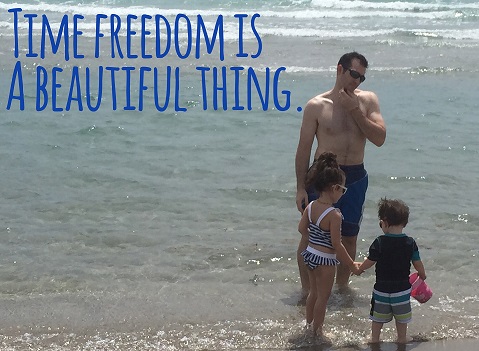 "time freedom" than just money. We all want the freedom to spend time with our family and children and stop working so many hours of our life. We usually put ourselves in these situations by thinking we need the new car or bigger house and can't keep our credit card in our wallet and the next thing you know we need to bring in more and more money just to survive. That's usually when someone sees an ad about work from home, make extra money and they jump on the train hoping to escape the rat race of life. And sometimes necessity is a Great motivator but it can be a double edge sword as well. Too often people have gotten themselves in such a financial bind that they can't seem to find any available funds to work their new business and so they just quit again and return to what they know best, the ole J.O.B., the comfort zone, another season of Dancing with the Stars or what ever sneaks in and steals their Dreams.
The True Entrepreneur is filled with a passion and a spirit that burns inside and moves them to learn more, do more and certainly Be More! They cannot be content with being a good employee and just getting by in life. The Entrepreneur seeks out the knowledge and life skills that will help them to put together a plan and execute their plan for Massive Success. They set their goals and monitor their progress always looking for a way to increase the value they bring that increases the rewards they reap, it's a Beautiful thing. Some are born with this burning desire and some just have to learn this skill from where they are in life. It really doesn't matter what has happened in the past because you can't change any of that if you wanted to, but it does matter what you do Today that will change where you are going tomorrow. If you have the natural Entrepreneurial Spirit then embrace it and get started on a plan that will create your Dream Life. If you need to learn this skill then by all means, find the education, the support group and surround your self with people that are of the same mindset and change. Jim Rohn says, "If You don't like where you are in life, Change It, you're not a tree!". That's some Good advice.
Is there an Entrepreneur inside you just waiting to be set Free? We sure hope so! We Love Network Marketing because it gives the average person an opportunity to be Great and do things that others only wish they could do. Will everyone succeed at this Great opportunity? Probably not, but that is Totally up to You. Could You use some help in getting started? Well that is why we are here. We have learned to work with people from where they are at, get them the education and skills to start and then give them the support and training to move their home business forward. We have gone before you to learn what to do and what not to do so that you can lean on us for guidance. We have the training, we have the opportunity, we have the support and we are here to Help.

If You would like to know more about what we do, how we do it and most importantly How it can benefit YOU, then please reach out to us and lets connect. Let us help you develop a plan and map out a strategy that can Help You realize that Dream Life you want so badly. You can always learn more about what we do by visiting our personal website at DeanAndDena.com. You can connect with us via Facebook by clicking here, or shoot us an email or Something, Just reach out cause we are here to Help. We have a plan and we can get you started if you just make a move.
Simple Dream TEAM!
We can't wait to meet You ALL, on the beaches of the world.
Ever Onward! cause that's how we Roll!
Spreadin the Love
Dean and Dena