My how times have changed. We were born in the early 60's and grew up through the 70's and 80's and it was a Glorious time. Came out of high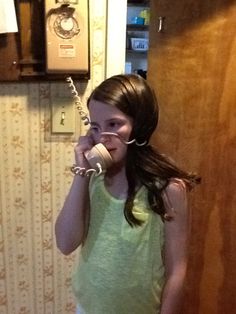 school before there ever was an internet and learned to type on an old fashioned typewritter. There were no cell phones, no computers and no internet and somehow we still got by. We used to talk all the time, because there wasn't anything else to do. It was even a big deal to get your allotted time on the phone. You had to go in the hall because there was only one phone in the house and it hung on the wall with one LONG cord that was always a tangled mess. But we Loved to talk! We always sat and talked about everything or anything, it was a Glorious time.
Then came the internet and computers and suddenly you could communicate without even having to write a letter. Email they called it and that was pretty cool. Gone were the days of encyclopedias and libraries as Google ushered in a new way of finding information. Never forget my first computer, a Super 486, think it had a whole 16 megs of ram and a new thing called a disc drive. I remember my dad saying I wasted my money because no one needed a CDRom? He didn't even think you needed that stupid thing called a mouse, after all you had direction buttons on the keyboard. LOL, that was funny then and still funny today. Then came the cell phone, that big bag thing that weighed 40 lbs. What a marvelous and wonderful piece of hardware that was. You could place a call from anywhere, and maybe get through, wasn't many towers back then.
But let's fast forward to Today! Wow, how things have changed. We went from sitting in the hall on a phone that didn't go NO where to carrying one around in our pocket. Now you could actually place a call from Almost anywhere. And to my continued amazement Apple bust on the scene with a "Smart Phone" that would actually access the internet, Man that's COOL! This gave birth to Social Media and instant chats with anyone any time. Now you didn't even have to run home to see what was in your email or who was trying to chat with you, just pull out your Smart Phone and go to town. Now days  practically EVERYONE sits around with their head buried in their phone or device. And thus the phenomena arises.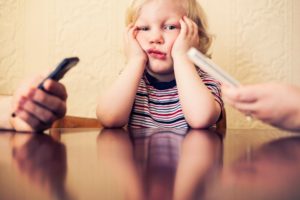 People have become SO Addicted to their device that people don't talk with those right in front of them. They sit down for dinner or to visit and no one can take their eyes off the phone, they just sit there and stare at the device. Look around, it's becoming an epidemic. Even the youth are starting to have neck problems from the bad posture of constantly hanging their head down to focus on the phone. You see couples sitting at restaurants just staring at their phone and not even visiting with each other. You get together with friends and next thing you know no one is talking because they are all just caught up in the latest on Facebook or Instagram instead of being "Present" in your company. "Can You Be Present?"
If not then Shame on you. Turn off the damn phone and enjoy the moment you have in the company of a friend or loved ones. Nothing in that phone is even close to being as important as the conversation you could be having but aren't. Time is SO Precious and we waste SO much of it anyway that when it comes to sitting down, face to face, to be "Present" in the moment don't waste these precious moments staring into space. How many relationships are destroyed by this technology? I would venture to say A Lot! As a man that has been married for 35 years and still best friends I can tell you that "Talking" is a major component of a relationship. If you are ignoring your significant other because you are more interested in that cute meme on Facebook I can promise you that your are headed for trouble. Take advantage of the time you have together, which usually isn't that much, and just be Present in the moment and TALK. You will be amazed at how much better you get along when you are visiting, laughing and enjoying each others company.
So, how does this relate to Network Marketing? You knew I would get around to it! Here's the deal, we Network by having meetings and giving presentations about our opportunity and or products. I can tell you that Nothing gets under my skin faster than someone I am trying to talk about my business with that keeps getting interrupted every five minutes by their phone. And the same goes for us as Professional Network Marketers, if you have someone that went to all the trouble to meet up with you, and hear your presentation about your products or opportunity, and all you can do is keep stopping to see who's calling or what was that message then you lost the battle already. BE PRESENT when you are in the presence of a prospect. Put the phone down, turn it off if you have to, but give your prospect 100% of your attention. You can not be effective when you are constantly interrupted by your phone.
Same goes for the prospect. The meeting with a prospect is not about how good you are it's about "Are they Qualified to partner with You in your business?" If they can not even give you 30 or 45 mins uninterrupted then how are they ever going to focus on building a business. When you let a prospect take control of the situation and their phone is more important than you, then you are coming from a position of weakness. You are letting them dictate the terms of the meeting. Never let them have control of the meeting. You are the one interviewing them to see if they are qualified, not the other way around. I know, to some of you this sounds harsh and you think I'm being arrogant, but I'm not. See, I am a Profes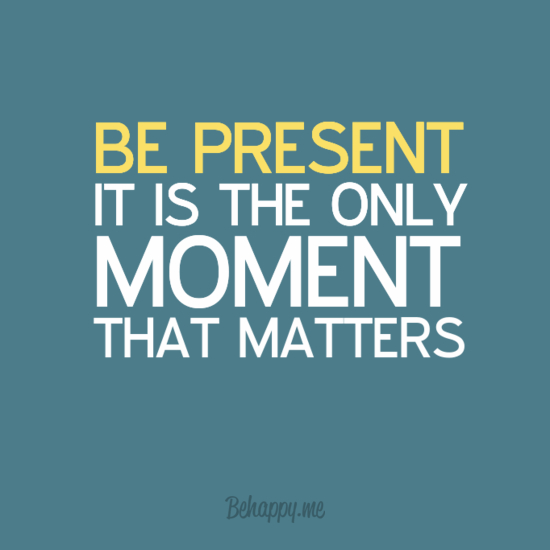 sional Network Marketer that takes my Profession and my Mission Very Seriously. I am not just looking for anyone with a heartbeat to be on my team. I am looking for someone So Hungry they Have to Succeed. I want the one that wants it more than me, the one that pays close attention to everything and hangs on every word you speak. The one that takes notes and ask questions that are relevant to their Success in this business. If someone can't take put that phone away and Be Present while I put my time and effort into showing them the Best Plan Ever, then I don't need them and neither do you.
Be Present, pay attention to the moment and listen to what others are saying to you. You might just learn some things that could carry you through to a happier place and time in life. Be Present, because tomorrow might never come and you may have wasted the last chance you had to say what you wanted to say or hear what you wanted to hear. Be PRESENT, Because that's Respect! Just Be Present! Live today not in your phone but face to face, You'll Be Glad You Did!
We are Professional Network Marketers that hold the up most Respect for this business and we are looking for others just like us. If you don't have time, that's fine cause I don't either. But if you have the Desire to do Whatever it takes to Succeed and Reach Your Dreams, then I got all the time in the world for you. Let's have a conversation, face to face, belly to belly to discuss how we might come together and partner up for the ride of a Lifetime with our Simple Dream TEAM. If you would like to know more about us, Who we are and What we do and Why then you can always come visit our personal webpage at DeanAndDena.com to know more. There is info on what we are doing that lets us live the Simple Life that most only wish for And, How it might benefit you to get Serious about what you are doing to Reach Your Dreams and Goals. We Can Help! And we would Love To!
As always, Can't wait to meet you all! on the Beaches of the World.
Ever Onward! cause that's how we Roll!
Spreadin the Love,
Dean and Dena